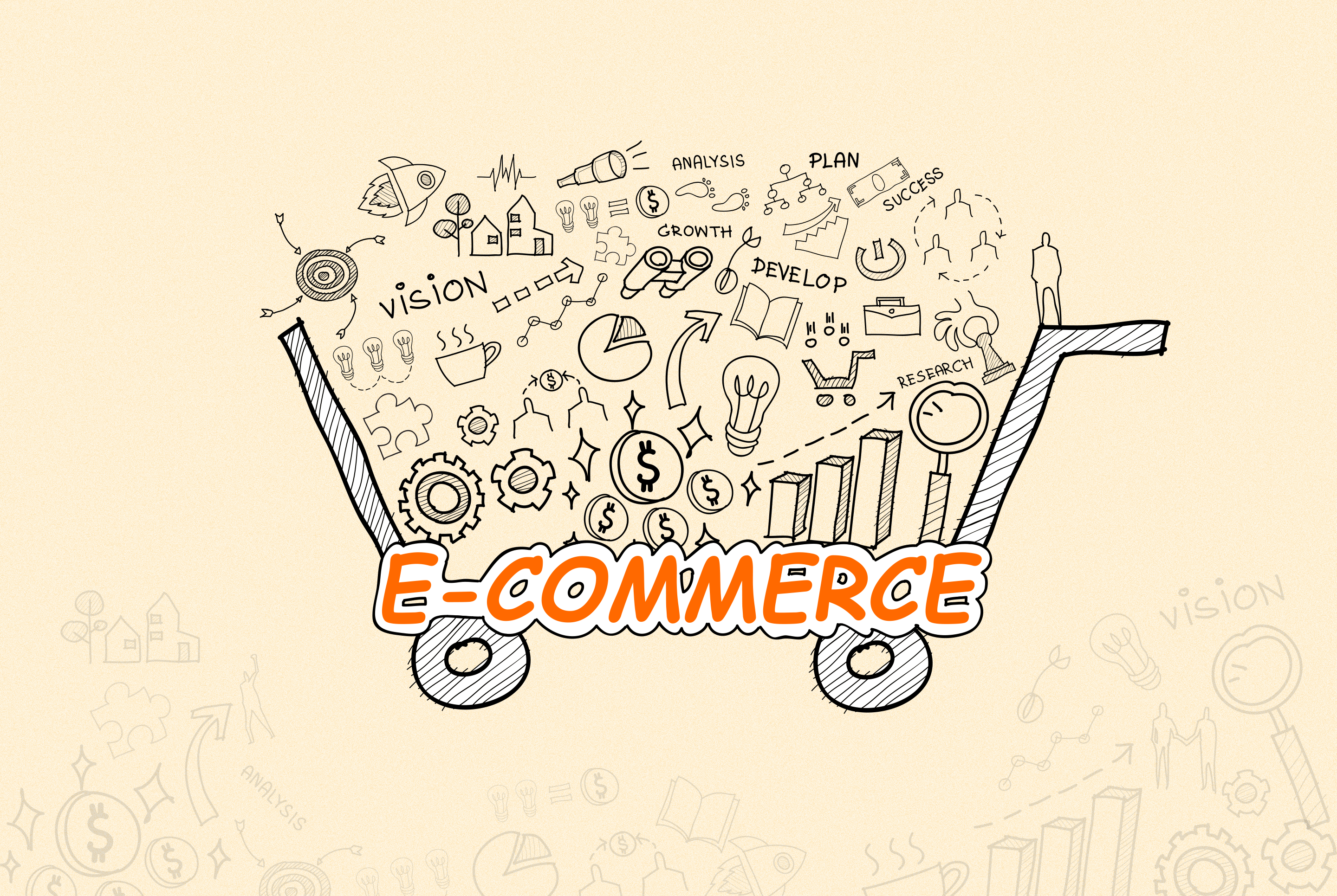 How to Boost your eCommerce sales in 2023
Are you interested in learning how to boost your eCommerce sales in 2023? If so, you're not alone.
Every business owner and marketer out there wants to grow their business, – I mean – I don't think I have met a business person that starts a business and doesn't want it to grow or scale.
I also believe that every business owner, marketer or sales representative understands that they would have a tough time reaching their target audience and securing more sales without proper digital marketing and that is the reason for this blog post.
But before we dive into it, I'd like to answer the question:
What Exactly is E-commerce?
For starters, – and only if you are just starting – eCommerce is short for Electronic Commerce. It refers to the activity of buying and selling products or services over the internet, be it on social media or a website.
It's that simple.
E-commerce provides a platform for people to buy or sell whatever they want, whenever they want and wherever they want. All they need is a laptop, a smartphone, steady internet and goods to sell or a service to render.
Before the coming of eCommerce, the dominant form of commerce was brick-and-mortar.
I know what you're thinking. I'll explain what Brick-and-Mortar businesses are.
Brick-and-mortar businesses are retail outlets that have at least one physical location (e.g., a retail shop in a building or market) and offer face-to-face customer experiences.
Brick-and-mortar commerce still exists, but is quickly being replaced by eCommerce, while some Brick-and-Mortar businesses maintain an online and physical presence, some businesses operate mainly online and they increase in numbers every day.
However, as the world evolves and with the help of the internet, people are now able to buy and sell virtually everything online, like Clothes, electronics, apparel, software, books, even Food, and all of that can be referred to as eCommerce.
Now that we Know what eCommerce is, let's dive into why you are here.
It's 2023 and like every sane business person, you want to grow your business online, you either have an online shop or are planning to own one and you'd like to know how to go from where you are now to where you'd like to be. You also need someone to point you in the right direction, and that's why you searched for what brought you here, right?
You should know that Boosting ecommerce sales isn't as difficult as you might think!
More often than not, it's a combination of small techniques working together in unison to help you reach your revenue goals and it certainly doesn't require you to burn yourself out in the process of scaling.
In light of that, I have 5 suggestions that can help Boost your eCommerce sales in 2023.
Ready? Let's go
Okay, one more thing before we go.
The current e-commerce spending in Nigeria is estimated at $12 billion , and is projected to reach $75 billion in revenues per annum by 2025.
If you'd like to get a slice of this pie, read and practice these 5 tips I am about to share with you.
1. Simplify the Online Shopping Experience
The first step to boosting your eCommerce sales on your platform is to focus on creating a seamless user experience. You could have the best online shop in the world and the best products; it won't matter if visitors can't navigate your website without hassle.
There are a few ways you can streamline the shopping experience for your audience.
Our first suggestion is to make sure your website loads fast.
Research shows that 47% of shoppers expect a website to load in two seconds or less.
We believe that running a speed test and making structural changes to your site can significantly improve speed and performance on your website.
To give your customers a quick and easy shopping experience, rethink how your shopping cart and checkout page work. Most people who abandon their cart do it during the checkout process. To reduce this, make sure that customers can always see their cart and navigate to the payment page with just one click.
Consider having a beta testing team purchase products from your store to gain firsthand experience. This way, they can have a firsthand experience and provide valuable feedback for improvement.
Better still, you can save yourself the stress and have your online shop on our platform which is tested, trusted and fully optimised to give your visitors a seamless experience. Also, we have seasoned Engineers who are constantly working on improving the user experience of your customers.
With this strategy, you often find room for improvement and make positive changes to your customers' shopping experience year after year.
2. Fantastic Customer Support
Customers are like teeth, if you ignore when a visitor has a question about your products or a customer has an issue with their purchase, you will definitely have headaches. A well-trained customer service agent/team can turn a sour encounter into a positive experience.
You get me?
Whomever you bestow upon the great honour of being the customer agent to your beautiful business should be trusted, well-trained, skilled and have in-depth knowledge of the goods and services you offer. They should be able to talk customers into buying and buying the right products.
You should also consider using social media as a customer support channel. Believe it or not, statistics show that 2 Billion people use WhatsApp monthly; 2.74 billion people use Facebook every month, roughly one billion people use Instagram in a month and 330 Million People use Twitter monthly.
It is safe to assume that many of your customers want to know more about your products or need help with an order and they will rather do these via a Social Media Platform that they are comfortable with.
If you have a well-trained team ready and waiting on Facebook, Instagram, Twitter or WhatsApp business they can help your prospective or returning customers satisfy their curiosity or provide a seamless shopping experience, which leads to happier customers and more sales.
What's more, fun is that we have these social media platforms integrated into our Tool, which makes it easy for your customers to reach out to you in no time, directly from your BrandDrive Shop.
Make use of this opportunity, gain more and retain your customers by providing proper customer support through their preferred channels and grow your eCommerce shop in 2022.
3. Building Customer Trust Using Social Proof
I have a question for you; would you buy something from an online store that has zero reviews? Or worse, bad reviews?.
I think not.
Most of us wouldn't. A lot of shoppers (including yourself) agree that they purposely seek out reviews when thinking about placing an order online, to be sure that they do not become victims of scams, counterfeit products – or worse – bad customer service. (Source of my stats? "Na me dey tell you")
Reviews are the best form of social proof you can add to your business. In Essence, social proof is a strategy that allows you to show new visitors that you're tested and trusted by other shoppers and well-known brands.
If you want to encourage more existing customers to leave reviews, consider sending out reminders to people a week or two after their purchase. Firstly, you check on them and ask if they are enjoying the product. When people are genuinely happy with a product, service, or business, they want to let others know. This could generate an organic review which will then be used as your social proof. *wink wink
Also, create and post Social Media Content that's aimed at showing these reviews to the general public – which includes prospective and Returning customers.
You can sweeten the deal further by giving visitors an exclusive discount for leaving their honest feedback on your site or social media (make sure you can afford to do such).
If you've noticed that most visitors abandon your payment form, consider putting your reputation on display with a trust badge.
Trust badges are another essential form of social proof. Trust badges are seals of approval that are typically put on checkout forms. You've likely seen trust badges from reputable companies like Norton, McAfee, and PayPal.
On average, this social proof feature can improve your form conversion rate by an impressive 42%.
Lastly, having an online shop on BrandDrive is a sign that you mean business and are ready to scale your eCommerce business in 2022. Do make sure to utilise our tools to effectively manage and grow your eCommerce shop.
4. Use Scarcity tactics – FOMO & Sense of Urgency
To get people to buy from your online store, you need to create a sense of urgency or FOMO (fear of missing out). That means showing limited products, deals that expire soon, or unique items that won't be available forever. This makes people more likely to buy right away instead of waiting and maybe missing out later.
Many people respond positively to these techniques which offer an incentive to take immediate action and not miss out.
Displaying a limited amount of available stock can spur many on to completing the purchase or risk missing out altogether.
Another way to achieve this sense of urgency is to run flash sales, time-based discounted sales or other financial incentives for users who will go ahead with the transaction there and then. This could be in the form of a buy-one-get-one-free offer or free shipping.
Whichever way suits your business best, creating urgency is a powerful way to drive more sales and grow your ecommerce business.
5. Optimise your website for Mobile
People love shopping on their phones, and that trend is on the rise daily. In 2020, the number of online buyers in Nigeria was at about 76.7 million, while Nigeria's total population amounts to 206 million and the internet penetration is at about 46 percent.
But you may be surprised to learn that while people are shopping on mobile, they're not buying! Last year, desktop conversion rates were at 3.91%, while mobile conversions are at 1.61%. So what does this mean exactly?
Mobile device users browse ecommerce stores (mostly for window shopping), but many stores fail to offer a seamless mobile experience optimized for conversions, resulting in the loss of many sales prospects.
If you want more sales, make your website user-friendly for all platforms. Don't forget to optimise your pop-ups for mobile, too!
Avoid too much Friction on the Checkout page and have a smooth checkout process. You never know what element can cause a customer to bounce.
In Summary: The Ball is now in your court, Boss
As I have pointed out, there are quite a few ways to keep visitors engaged and happy enough to keep shopping on your website and increase online sales in 2023.
The tips I have outlined here offer a framework that most business owners and marketers looking to scale their eCommerce platforms can adopt, to skyrocket their sales and customer retention in 2023.
To maximize your profits and sales in 2023, keep an eye on your results or let us do it for you. We can suggest changes and improvements to your strategy to help you reach your goals by the end of the year.
Till we meet again, always remember that "A child that wants to eat Jollof at a party should not be ashamed of dancing" – African Proverb.