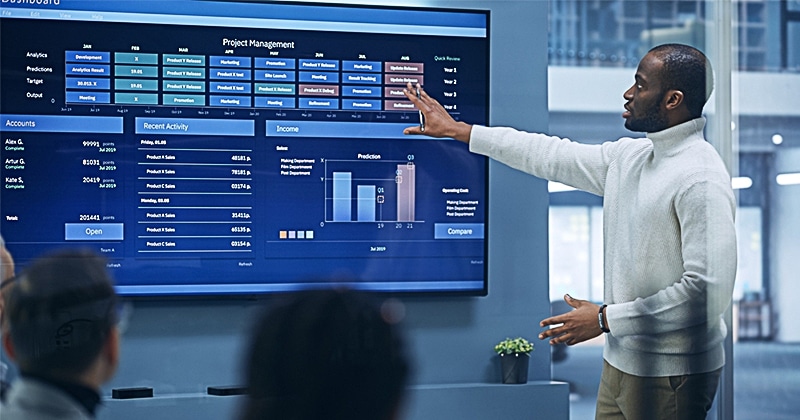 How Data Can Help You Create and Sell Better Products in 2022
Data analysis is -Hands down- the best driving factor for successfully building a modern business. Thanks to recent technological advances, you can now uncover lucrative opportunities through data analysis that was impossible a couple of years ago.
Creating great products is quite often the key to great revenue. The more value you provide to your customers through your products, the more money they are willing to pay for it because great products assist us in conquering mental mountains and annoying physical tasks.
It's not easy to push a rock uphill, and none of us want to do it. That is why developing a product that your customers truly want (and require) is such an important part of running a successful business.
While it's easy to admit that there are many needs out there waiting to be met by a new product, identifying the ones that are most needed can be difficult.
That is unless you make use of Data.
How to Gather and Make use of Data
The Current Market
First of all, look into what's already on the market. Attempt to gain a comprehensive understanding of every existing product in your area.
Bear in mind that the information you use to make decisions is only as good as the information you use to make them. And, in order to make sound decisions about the needs of your market, you must collect as much accurate information as possible.
When researching a product niche, it is critical to learn these things: Who is selling the products, How Much they are charging, and What features the products have. What technology is employed? What kind of warranties and service options are available?
Knowing existing companies' profit margins at their current price points can be extremely useful if you can find them.
Start by assessing where there are gaps in the market that you can potentially fill. However, don't stop there. Monitor this data over time to identify market trends that you can capitalize on in the future.
Markets are constantly changing in response to people's needs and the success or failure of businesses.
Where there is market saturation today, there may be a void tomorrow. Keep an eye out for these types of changes. You don't want to pass up an opportunity, and you can't afford to overlook a change that could be detrimental to your success.
Customer Satisfaction
Once you've figured out what's out there, try to figure out how people feel about it.
Customers are quick to sing the praises of great products, but even quicker to express their displeasure with those that fall short. There are numerous online reviews and analysis tools that can assist you in analyzing these reviews to determine overall patterns.
Your goal as a business owner should be to promote customer satisfaction. Reviews are a fantastic source of customer satisfaction data, but you should never make assumptions about customer feedback. Many products that were the "next big thing" have come and gone, only to be met with negative customer feedback once they hit the market.
When you know which features people like/dislike, and the features they believe are missing, you can begin designing a product that people will be drawn to right away. This method not only results in happy customers but also in positive reviews once your product is released, and it will attract new visitors to your product page.
This data collection method can also be used to analyze the marketing activities of you and your competitors to see what works and what doesn't. If you discover new tactics using this method, put them into action as soon as possible as long as they make sense for both you and your market.
Product Pricing
After you've created your product, you'll need to figure out how much to charge for it. If you set your price too low, you will lose money, and no one wants to lose money. However, if you set your price too high, you will lose market share. Your potential customers will go elsewhere to buy your product, leaving you in the digital dust.
Using the data you collected earlier, conduct additional analyses to predict how much people will be willing to pay for your product based on its specifications. Finding the right price point can take time, but it must be done correctly to capitalize on your previous efforts.
At the same time, remember that your price will need to be updated on a regular basis. If the rest of the market begins to discount products that are similar to yours, you will lose sales if you do not follow suit. Setting an effective price point can be difficult, but doing so results in increased sales, higher profits, and positive customer feedback.
The Right Equipment for the Job
Knowing you need data and conducting data analysis is one thing; actually carrying it out is another. Thoughts are important, but actions are what makes a company great.
It is important to understand and state that you should collect and study data. What is more important is that you have to collect the said data, which you can only do if you are properly equipped for the job.
Here are a few tools and services to help you with your data analysis:
BrandDrive – This platform studies your business and gives you accurate data and insight to your business performance. It covers Consumer Habit/satisfaction, Pricing and also gives you suggestions based on its findings
Import.io – Provides custom-built data sets to meet your specific business needs, as well as a quick way to extract information from multiple websites.
Plot.ly – This allows you to quickly visualize your data in order to see trends and insights.
Luminoso – This allows you to easily identify relationships between keywords and concepts in your data set and gain insight into product perception.
BigML – Creates a market model that includes variables such as pricing, product features, and geography.
Trifacta – With simple statistical analysis tools, Trifacta cleans and wrangles data from files or databases that Excel cannot handle.
Finally, now is an excellent time to be in business. More tools than ever before are available to help us analyze the market to determine what to build, what features to include, and how much to charge for it. Use the tools and process outlined here to maximize your profits while avoiding losing customers or damaging your reputation. You will be successful. To build a great business in today's market, you simply need to reach out, grab all of the available data and use them.
Till we meet again, Remember that one who eats alone cannot discuss the taste of the food with others – African Proverb