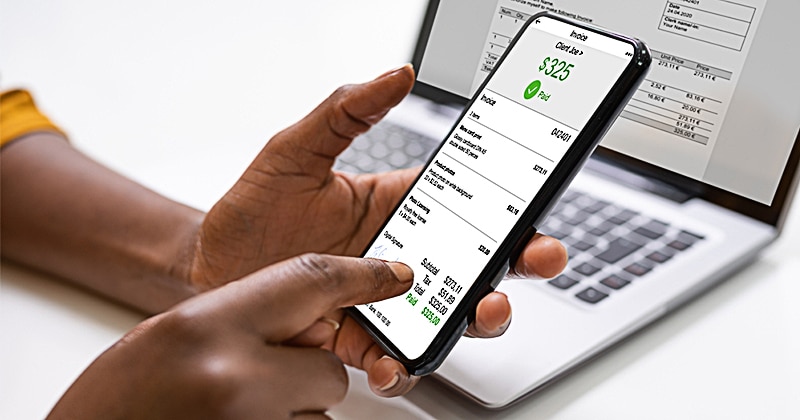 Invoicing, definition, importance and tips.
Invoicing
An invoice is a timed document that states a transaction between a buyer and a seller. An invoice usually specifies the terms and conditions of each transaction, if goods or services were sold on credit, the invoice will carry the agreed mode of payment.
An invoice usually has a unique identifier, the invoice number used for external and internal reference. An invoice contains the seller's details or service providers in case of an error in billing.
The invoice contains the unit cost of the item purchased, freight, handling, shipping, payment terms as well as information relating to any discount or total amount owed if any. 
Technology has made invoicing not only a PDF, printed paper, or limited to stating units of items bought only, but also possible for buyers to pay directly from the invoice digitally.
What you can do with invoice software:
Create customized invoices
Enjoy complete freedom over the look and feel of your invoices. Choose a premade template from a gallery and tailor it so you can build your brand the way you want.
Sit back and let your software take care of your invoices by automating tedious recurring tasks from invoicing workflows to payment reminders.
Make payments easy and secure
Invoicing software ensures that payments are absolutely secure with PCI DSS compliance. You can even automatically collect payments on a recurring basis.
Improve customer relations
Invoicing software helps your customer relationships reach a new level. Good invoicing software includes CRM support and a client portal for customers to track their transactions or make payments online.
The Importance Of Invoice Date:
Represents the time-stamped and date on which goods have been billed and the transaction officially recorded.
To encourage customers to pay within the agreed period.
Invoices with longer payments period may have a step-down discount, some business owners offer a discount for paying an invoice early. The term of these invoices includes the percentage of the discount and the applicable time frame.
Offers verification in writing of the payment agreement between business owner and customers.
E-Invoicing
Based on statistics, the record has shown that business owners rely more on e-invoices as an alternative to paper documents as it's easier and simplified.
Electronic invoicing is a form of electronic billing to generate, store and monitor transaction-related documents between parties and ensure the terms of their agreements are fulfilled.
BrandDrive gives you the chance to create your invoice on the app. An invoice that still redirects the buyer to a payment link.
Creating invoices on BrandDrive helps business owners ease the stress of searching and sorting for specific terms, names, or dates, gives business owners the ability to print or reproduce on demand, the ability for data collection and business intelligence, and permanence and resistance to physical damage.
Invoice tracks the sale of a product for inventory control, accounting, and business record purposes which help keep track of accounts payable and similar obligations due.  Today business owners use invoices that are transmitted electronically, rather than being paper-based. If an invoice is lost, the buyer may request a copy from the seller. The use of an invoice represents the presence of credit, as the seller has sent a product or provided a service without receiving cash upfront.
 Tips for invoicing
Here are some tips to help you make the best use of your invoices and ensure that you get paid promptly:
Incentivize on-time or early invoice payments
 
Make the invoice and payment process more convenient for customers
 
Use recurring invoicing, if applicable
 
Negotiate and establish payment terms in writing
 
Get upfront payments
 
Automate invoicing
 
Work on creating closer relationships with clients
 
Hold the work or stop projects if a client doesn't pay on time
Conclusion
Invoicing is important in small business accounting. Invoices serve an important purpose in small business accounting. Invoices and payables are an essential part of a business activity. The purpose of invoicing is to provide a business with a record of sale and to keep track of payments.
A good invoice isn't just a sales receipt, but a legal document that protects your business against errors and risks. The right invoicing tools can help you streamline your invoicing process, improve your cash flow, and even simplify your accounting. A mobile-friendly SaaS invoicing system is an easy modern upgrade for any business that's stuck in the stone invoicing age.